Q: WHEN CAN I HAVE MY PARTY?
A: The Lizard Guys are available 7 days a week all year long with the exception of select holidays. Please call our office at (908) 722-1519 for availability.


Q: WHAT DO YOU NEED TO PROVIDE?
A: The Lizard Guys presenter requires a minimum area of 8 feet by 8 feet for him/herself & the critters and access to electricity for the possible use of a microphone/speaker system. The total space that will be needed will depend on the size of the audience. (For a large picture of a typical presentation, CLICK HERE)


Q: HOW LONG IS THE PRESENTATION?
A: The presentation lasts approximately 45 minutes. The presenter's set up time is less than 10 minutes, so he/she will be ready to begin shortly after arriving at your party. Please note that the time booked is the time we need to start the show, so we suggest that you invite your guests at least 30 minutes prior to our start time to allow sufficient time for them to arrive. (We are a bunch of hams, we wouldn't want to start our show and not have everybody there!)


Q: HOW MANY PRESENTERS CAN I EXPECT TO PERFORM AT MY PARTY?
A: One presenter will perform for your guests with some really cool animals & some really bad jokes!


Q: HOW MANY ANIMALS WILL I GET TO SEE?
A: The Lizard Guys' normal 45-60 minute presentation consists of approximately 5-8 animals from 5 categories - lizards, snakes, turtles, frogs & bugs.


Q: HOW FAR WILL THE LIZARD GUYS TRAVEL?
A: Please check the "Areas We Cover" section on the Booking & Pricing page.


Q: HOW MANY CHILDREN DO YOU RECOMMEND FOR THE PRESENTATION?
A: We do not limit the number of children, but at a smaller party/presentation each child will receive more individual attention.


Q: CAN I SERVE FOOD AT MY PARTY?
A: Yes, but not in or around the presentation area. And PLEASE, no eating during the presentation…we don't want animal cooties near your food!!


Q: HOW MUCH DOES IT COST?
A: For booking information & rates, please visit our Booking & Pricing page.


Q: WHY CHOOSE US?
A: Because we're funny.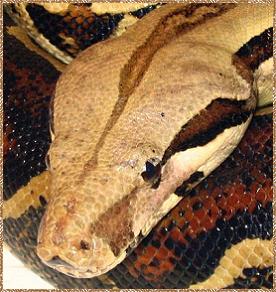 Boa constrictor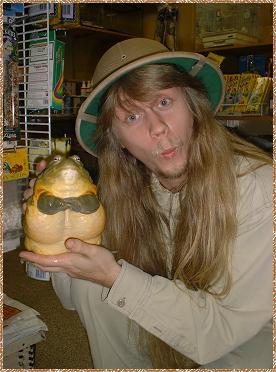 Silly Billy & "Stash", an African bullfrog
"Stormin Norman", a Blue-tongued skink